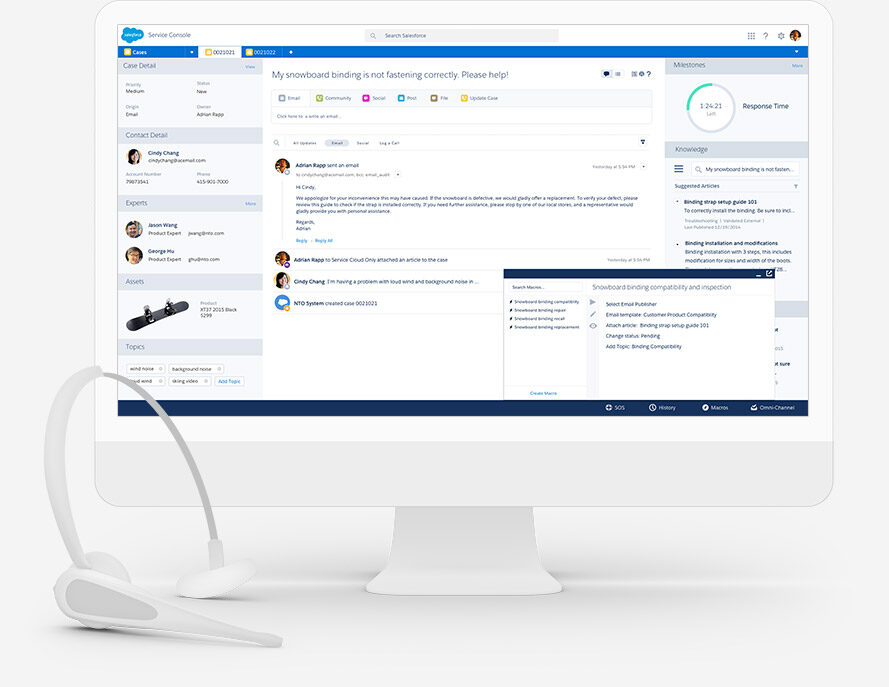 Lightning Service Console
Increase agent productivity with the next-generation of agent experience. Put all the information agents need at their finger tips for a 360-degree view of customers.
Resolve cases faster with easy visibility into the full context of all cases and a record of every customer interaction — all on a streamlined dashboard.
Customise and automate any customer service or approval process with drag-and-drop simplicity using Workflow.
Deliver smarter service by automatically matching cases to the agent with the best skill set to solve them.
Integrate with the most popular CTI systems. Log notes instantly when customers call. Plus, manage calls from within the console without touching the phone.
Monitor and respond faster to customer posts on social media channels like Twitter, Facebook, Instagram, and others.
Account and Contact Management
Free up your support agents by automating common, repetitive, multi-step tasks to resolve customer issues more efficiently.
Be ready when customers reach out to your company by arming agents with critical data about past communications right at their fingertips.
Custom Reports and Dashboards
Asset and Order Management
Make informed decisions with real-time reports. Track cases and customer information for a 360-degree view of the customer.
Track customers' assets, orders, support history, and more, in one place for a complete view of their activity.
LIGHTNING SERVICE CONSOLE
Get all the information in one place.Unify your agent experience and put all of the information agents need right at their fingertips. Find everything from customer profiles, to case histories, to dashboards — all in one place.
Maximise agent productivity.
Put all of the information your agents need to deliver fast service all in one place. Knowledge, subject matter experts, and customer profiles are all at the agent's fingertips. Your customer service team is empowered to answer customer questions correctly the first time, anticipate customer needs, and deliver world-class customer service solutions every time.
Deliver a great customer experience.
Customers can expect the same smart, fast, personalised service regardless of the channel they use to reach out. Cases from every channel come into the agent console; where, agents can view a customer's profile, purchasing history, and account information all in one place. Customers don't have to repeat themselves and agents can anticipate their needs.
Simplify the agent experience.
The dynamic, responsive layout of the dashboards in the console makes it easy for agents to put the information that they need front and center. The intuitive design of the Lightning Console is like a portal that puts all of the most frequently used actions right where your agents need them most.
Faster, smarter customer service starts with a free trial. (Yep, free.)

See firsthand how Salesforce is revolutionising customer service with a free Service Cloud trial. You can also join our Success Community to learn from other users, and help your business thrive